Articles
Mass Defense of Courage: Bradley on Our Minds
By Debra Sweet (7/12/13)
See this on the scene report by Debra Sweet from the Bradley Manning trial.
An excerpt: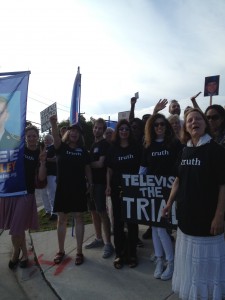 On Monday, July 8, Bradley Manning's defense began with what was surely one of the most intense and unusual openings in U.S. military or civilian court history. Almost without introduction, the 39 minute version of Collateral Murder was played on five screens, while the military judge seemed to read along from the chilling transcript. The more frequently viewed 17 minute version has the Apache helicopter attack on a group of Iraqis, including a cameraman and reporter working for Reuters. But the prosecution, for unfathomable reasons, insisted that the longer version, which includes another horrific attack from the Apache on an apparently unarmed Iraqi.
There were tears in the full court room at all the appropriate points. 25 of Bradley's supporters were allowed in the public seats at any one time, switching with 52 others who filled the overflow trailer. We succeeded in having the largest turnout to date to support Bradley at trial, including many who were coming for the first time, 24 of us from New York. The security detail counted and re-counted, short of badges, nervously herding the overflow.
The Collateral Murder footage was what made us support Bradley before we had any idea he existed. On April 5, 2010, when Wikileaks first published the video which they named Collateral Murder, we knew it was a myth-breaker for those who still thought the U.S. was in Iraq to "save" lives and help people. The Standard Operating Procedure of U.S. war-fighting in contested urban areas of occupation came through strongly enough visually. Add in the callous, outrageous chatter of the gunners – which was what Bradley testified this past February caught his attention and horrified him — and you have crimes of war writ large.
Read the rest and other reports here.